Five Star All-Star Cheer Team
WELCOME, and thank you for your interest in the Five-Star All-Star Cheer Program!!! Our All-Star Cheer Team is one of the most exciting and rewarding programs Five-Star has to offer!! At the time of the inception of the Five-Star All-Star cheer team in September of 2005, the team consisted of nine students interested in learning the sport of cheer. Since the time of its inception, our prestigious All-Star team consists of over 60 athletes and five teams. We are a highly competitive team program which emphasizes and focuses on teaching proper technique in all aspects of competitive cheer. These aspects include stunting, tumbling, dance, overall showmanship and performance.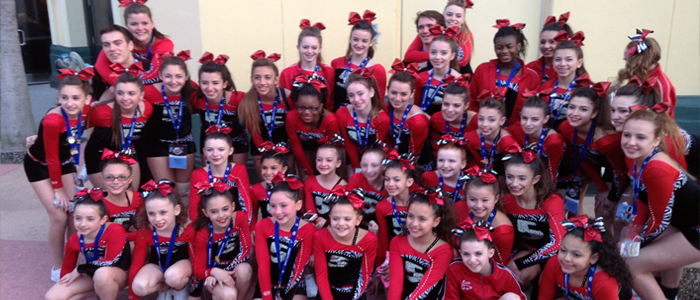 The All-Star program is also designed for athletes wanting and willing to devote time and energy towards achieving excellence. Our teams currently hold first and second place titles Nationally and Internationally and due to our competitive success, our standards are high and we strive for perfection. Our team program consistently produces elite athletes and young competitors who are committed to not only better their team but to also develop self-confidence. Five-Star is also very proud to be responsible for many of our competitive athletes to have moved on to cheer at the college level. Currently, several of our athletes cheer at colleges such as Sacred Heart University, Quinnipiac University, the University of Miami, Molloy College and SUNY Cortland, just to name a few.

Team try-outs are held in June every year. Once placed on a team, we require our athletes to continue training and developing their tumbling skills and techniques throughout the Summer. Our competitive season, officially begins in September with mandatory team practices twice a week, along with two additional tumbling days. Our team program is a year-long commitment with five to six competitions per season. Therefore, travel is definitely to be expected.

HIGH SCHOOL TEAMS
Our cheer program also provides high school teams the opportunity to develop and strengthen tumbling skills and overall fitness conditioning. A minimum of eight team members is required per team. For more information, please call us at (516) 887-6600 and leave a message for Joanne Cassidy. Joanne will be happy to return your call and answer any questions you have. You can also send an email to: fivestargymjoanne@gmail.