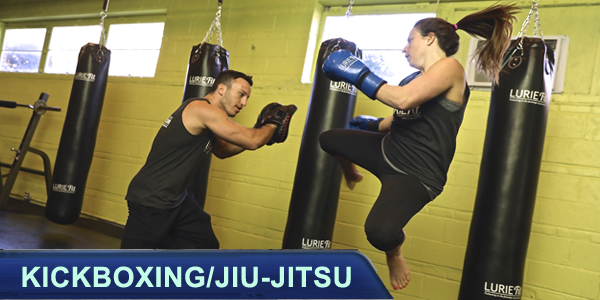 Lurie Fit Kickboxing/jiu-Jitsu
Lurie Fit located at 5star is a hybrid martial arts and fitness academy that offers kids and adult classes. Built to run simultaneously with the 5star schedule, Lurie Fit offers two main martial arts disciplines, kickboxing and Jiu Jitsu and one fitness weight training class called Beach Physique.
Our Kickboxing classes are like no other! Come burn tons of calories while learning proper technique. With our customized gloving system, you are sure to be progressing in no time. Our kickboxing program is mostly cardio but we do offer sparring class twice a week. Our Jiu Jitsu program is run Monday through Friday and is an excellent way to get in phenomenal shape all while learning the most effective martial art for self-defense. Built for the smaller fighter to be more effective against a bigger opponent, Jiu Jitsu teaches techniques through leverage and joint manipulation. Since there is no striking in this sport it gives us more opportunities to train live and go hard against our opponents.
Our Beach physique fitness program is all about proper weight training. In this class you will be taught correct forum and technique to build the physique of your dreams. Once you sufficiently learn how to weight train you will then be given a custom retune for your body type and goals.
Lurie Fit at 5star offers everything you need to get in the best shape of your life. So what are you waiting for, try your FREE class today!
For more information go to Luriefit.com